Should you require accommodations in Fort Collins, rooms are being held at the Hilton Fort Collins at a discounted rate of $137 plus tax (currently 13.55%), exclusively for RMEMA. Room rate includes parking.
This rate will be available until the room block has filled or until Monday February 19, 2023, whichever occurs first. Due to anticipated demand, it is suggested that you make your room reservations as soon as possible.
To reserve your room:
CLICK HERE FOR RMEMA ROOM RESERVATIONS
Or you may call the hotel directly at 970-482-2626 or Central Reservations at 888-225-9664 and reference the booking code: RMEMA to confirm the special rate.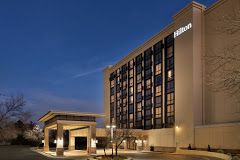 HILTON FORT COLLINS
425 West Prospect Road
Fort Collins, Colorado 80526
Phone 970-482-2626
Find the Hilton Fort Collins in the foothills of the Rocky Mountains, two miles from Fort Collins' historic Old Town and downtown area. We're less than half a mile from Colorado State University and Canvas Stadium, and a 20-minute drive from the Horsetooth Mountain range. We have an indoor pool, whirlpool, and fitness center.